As a Manufacture Representative for several Foundries Walker Services can provide a wide product service in Castings and turn-key services. WS can provide a "as casted" part or supply a finished part per requirement. Complete heat treating, machining and assemblies as required. Using our Foundry network there is no job too big or small. Capable of supplying one casting, prototype or large production runs. Stocking programs are also available. We can reproduce obsolete parts from your drawings and specifications, or from your samples. Our versatility allows us to make production runs on cast items as well as furnishing emergency replacement parts for machinery and equipment. Walker Services also has a knowledge base to draw from on "life extension" of your high abrasion and impact replacement parts. We have provided "life extension" up to 5 to 6 times longer. Swing hammers and impact hammers are our "Bread and Butter".
Below is a list of Foundry services available thru Walker Services. No Job too Big or Small!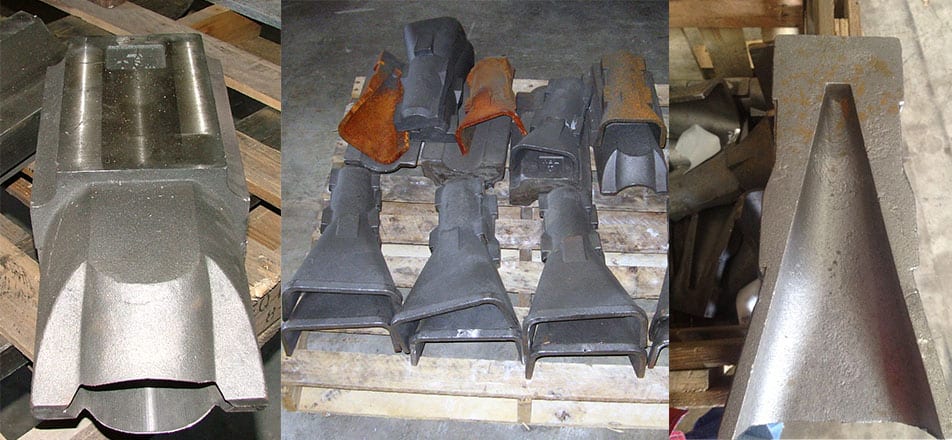 Alloys:
All grades of Irons and Steels.
Carbon Steel
High strength / High hardness low alloy steel
Manganese Steel,
Corrosion / Heat resistant Stainless Steel
High Chrome White Irons
Cobalt Alloys
Aluminum
Nickel and Nickel Alloys
Alloy Irons
Ductile Irons
ADI
Copper Alloys
Brass
Bronze
Capacity:
Metallurgical Control:
Spectrographic control of all heats.
Physical and Chemical Certifications as required.
In-house metallographic analysis
Patterns:
Custom designed patterns using a variety of materials
Heat Treat:
Extensive in-house heat-treating capabilities with air and water quenching.
Provides normalizing, hardening, tempering, annealing and stress relieving.
Non-Destructive Testing Capabilities:
Non-destructive testing includes
Gaging
Brinell Hardness
Magnaflux
and others as required.